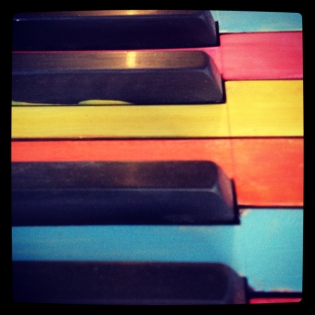 Being a guitarists, I give my piano playing musician friends a hard time. I accuse them of having no soul since they can't get vibrato, sustain notes without the aid of machinery, and can't bend notes. In other words, they can't do all the cool stuff that guitarists do (keyboards are another story). But to say that they don't emote is a bold statement. Piano covers a lot of ground, even if you can't take it to a campfire (still got them beat!). Just put on most amazing soundtacks and you can feel piano wire delicately gluing the mood to the scene.
I remember being a young guitarist and sitting in a piano practice room with a big hollowbody guitar. I'd rest the end of the neck somewhere up on the piano, hold down the sustain key, and play really nice add 9 sus 11 chords and listen to the overtones that formed like a cloud, barely dissipating. That could be my first dive into real, live ambient, and those moments have defined a valuable moments in my life.
My initial self reaction was that using predominantly piano for a mix was that it would end up sounding like cold new age glop. Or piano bar kitsch. I definitely wanted to use music that spoke, and didn't just repeat a bunch of repetitive and tired progressions for the sake of passing time. Not my style. I purposely took this long to do such a thing so that I could really find music that stuck to my soul, and caused a lasting sensation. I hope that it sticks to your soul, and brings you peace.
turn on, tune in, sleep...
ambient-transmission.blogspot.com
facebook.com/tonepoetmusic